Involvement in International IAH Congresses 2017
IAH-BGID Activities at IAH 2017
IAH-BGID Special Session: The role of groundwater in reducing poverty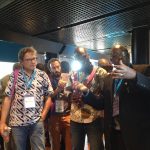 Groundwater plays a fundamental, although often underestimated, role in poverty alleviation. In many areas worldwide it represents the primary safe source of water for domestic supply and agriculture supporting livelihoods and lifting many out of poverty.  However, the hidden nature of groundwater often hampers its effective management and protection which can threaten the sustainably and quality of supplies.  Therefore, for the benefits of groundwater abstraction to be sustained there is a need to better explore the links between groundwater availability and quality, climate change, and groundwater-dependent livelihoods.
The session will discuss (1) the role of groundwater and hydrogeological sciences in poverty reduction and contributing to achieving SDG 6 (Clean Water and Sanitation); (2) linking social and hydrogeological sciences to address the emerging challenges in the poorest regions of the world; (3) current and future challenges in improving the understanding of groundwater in poor regions worldwide; (4) groundwater outreach and governance in poorer regions.
Successful case studies and practical hydrogeological applications will be presented together with new multidisciplinary frameworks to tackle emerging groundwater issues in low income countries.
Convenors: Alan MacDonald and Viviana Re (IAH-BGID)
IAH-BGID Annual General Meeting 2017
The meeting will be held on Monday 25 from 17.00 to 19.00 in room KOKPIT
Anyone interested in network activities is invited to join!