The IAH Burdon Groundwater network for International Development (IAH-BGID) is pleased to announce the launch of its free book scheme for 2017.
The aim of this scheme is to increase access to hydrogeological books for IAH members in countries where it is difficult to obtain reference books, or reliably access the web.
We had similar schemes in previous years which proved highly successful.
The offer is open to IAH members in Sub Saharan Africa and the list of available books can be downloaded here.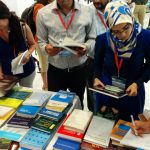 To claim your book please follow the simple steps below.
Please choose ONE of the books listed in the document attached
Email your choice of book by December 30, 2017 to iah.bgid@gmail.com with the email subject title "groundwater books". Include your name and IAH membership number in the email. We can only process requests with a valid IAH number.
We will then arrange for IAH to purchase this book and send it to the address to which the Hydrogeology Journal is sent.
If you have any questions, please contact us on iah.bgid@gmail.com and we hope you find the scheme useful!